Phone 856-309-9500 ~ 50 College Drive Clementon N.J. 08021 ~ www.KaspersKorner.com
| | |
| --- | --- |
| KaspersKorner Racing Outlaw 10.5 Drag Racing Division, Turbocharged Mustangs | |
Christy / Kasper Motorsports Outlaw Drag Racing Blog Page
Part of the KaspersKorner / Certified Automotive is their own racing division made up of family members, sponsors and good friends with a huge following of fans. Our racing division blog will help to keep you updated on various aspects of the Kasper Family Racing endevours throughout the year.



We Invite You To Sponsor The Racing Organization Of Kasper Racing
By: Kasper Racing Press
OPEN OUR LASTEST SPONSORSHIP PROPOSAL HERE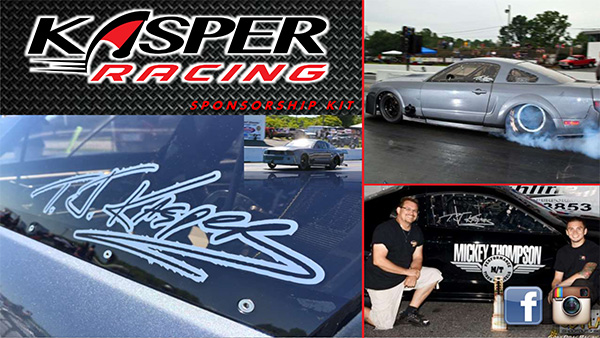 Our goal is to find winning partners with a winning attitude!

We invite you to sponsor the racing organization of Kasper Racing. Our goals are to race as many races as we can attend throughout the year to promote your company to the best of our ability.

1.Establish a relationship with our sponsor.
2.Demonstrate our market value through winning and pure performance.
3.Enrich social media buzz to promote the sport of drag racing, our sponsors and our team

We will be traveling to all Nmca/Nmra events with full magazine & internet coverage. Major events included are Yellowbullet Nats, Ducks Race Lights Out 7, Shakedown at the Summit and all Cecil CountyDragway races which consist of 12 races. Your logo will be displayed on the car & trailer as well as a banner to be hung at every event on the trailer. Our races will be held on the east coast from Florida to Maine, Las Vegas, Ohio, Canada & Texas.

Your sponsorship or co-sponsorship is negotiable and very much appreciated. You will receive publicity and advertising, in addition to logo and product identification through local and national press coverage.

We our proud of our social media following and activity. We also display the race vehicle with special appearances at local trade shows, car shows, malls, schools and charitable events. We'll have custom tshirts with every sponsor listed for sale and our own crew t-shirts as well.

Additional details about our racing team and the benefits of sponsorship are provided.

Let's Win Together!

See What Kaspers Korner / Performance Can Do For Your Vehicle's Performance Here:

TJ Kasper Sets All Time Outlaw 10.5 World Record Shakedown Nationals
By: Kasper Racing Press

During the course of the 10th annual Shakedown Nationals young TJ Kasper had a mighty job ahead of him. Not only is he the youngest of the Outlaw 10.5 drivers, he and his father "Tommy" run in the same class.

TJ had already seen Tim Lynch crushing the numbers in Outlaw 10.5 with 4.08's and again at the Shakedown a 4.02 but wasn't able to back it up in the rest of the race.

Here-in lies TJ Kaspers Record pass.

With the Mustang powered by DiSomma Racing Engines and Twin Turbos, Kasper helped himself to a stellar run on October 13th at 9.28 PM during the second qualifying rounds, ripping off a strong 1.08 60ft time, the car ran straight as an arrow to the 330ft markers - 2.78 seconds finishing the pass 4.085 @ 201.25 taking both ends of the Outlaw 10.5 record.

Both MPH and ET were backed up earlier with solid 4.10's well within the range.

Not only is he the fastest and the quickest but the youngest to set this milestone for Gil Christy Motorsports.

The team knew this weekend would have special meaning as they also donned new shirts and had the cars lettered in pink for "Breast Cancer Awareness Month".


Tom and TJ Kasper: Number One / Two Points Champions Atco Raceway 2011
By: Kasper Racing Press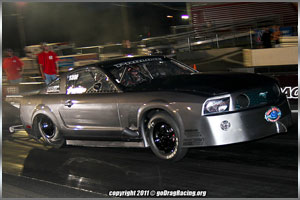 Tommy Kasper takes the number 1 spot in the well contested points championship at Atco Raceway followed by his son "TJ Kasper" with a one two punch in Atco Raceways Points Championship / Track Championship. Both racers led the field of twenty cars through the 2011 year of competition in Outlaw 10.5 Racing at their own home track with the Gil Christy / Kasper Racing Team behind them.

Both racers in highly modified twin turbo Mustangs kept a points lead of nearly double of the number three spot held by Steve Gorman, another twin turbo Mustang. Atco Raceways Outlaw 10.5 series has been evolving through many stages to help comply with the speeds and ET's of these cars.

What started out in the early 1990's with cars struggling to run in the eight second zone in the quarter mile has now moved to 1/8th mile racing and average ET's in the 4.20 range out of these new styled rides. Kaspers have been involved in this class as both racers and sponsors from the beginning when they were real street cars that could do double duty both on and off the track.

See What Kaspers Korner / Performance Can Do For Your Vehicle's Performance Here:

Tommy Kasper Takes Finishline Performance Street Car Shootout Track Championship 2011
By: Kasper Racing Press

The well known Finishline Performance Street Car Shootout has been a steadfast and noteworthy series for years at Cecil County Dragway. The heart of the Mid Atlantic Outlaw 10.5 racing scene saw some of the most highly contested racing yet this year as cars now were closer in the 1/8 mile format.

Tommy Kasper took this years number one spot with his constant round eliminations and wins under his belt against strong "Heads Up" Racers from all over the area. The twin turbo mustang performed as it should garnering this spot as four of the top five contestants ran similar twin turbo combinations with one supercharged car in that top five.

TJ Kasper filled the fifth spot in his exotic Mustang; with two engine failures it was hard to compete for this top spot and have a title shot but TJ Kasper is relentless in his pursuit of more passes and wins at Cecil County.

Kaspers Korner Outlaw 10.5 Mustangs Rank High At The 2011 Shakedown At E Town
By: Kasper Racing Press

Probably the most talked about and controversial class in all of "Heads Up" drag racing is the Outlaw 10.5 group. Cars that had originally been street machines struggling to run a quarter mile in nine seconds and under right here at Raceway Park have now moved into a zone never thought of in those early years of its generation. Speeds and ET's have made it almost impossible to allow these cars to take on the full 1/4 mile when at the 1/8th they have already broken 200 and the norm is around 195 with ET's in the 4.20's and under on any given day. Turbochargers have become the power adder of choice but Supercharging is still becoming more prominent back each year yet nitrous applications have fallen off some. Torque converter technology has been even more effective keeping the "small 10.5" tires planted with the exorbitant horsepower these cars produce. This year marks the first time David Hance chose to cut the full 1320ft down to the 660ft mark for safety and performance, cars in this class have not been running the full length of the track and most felt that even in the confines of one of NHRA's most respected tracks could they run it out the back door with piece of mind.

Tom Kasper and his 670 cubed twin turbo Mustang placed number five with a strong 4.240 @ 185.61. One of the youngest racers and feared is TJ Kasper, his skills have increased and so has his power 4.325 @ 176.47 putting him solidly in the tenth position of a tough 29 car field in the original "Tim Lynch Record Setting Mustang" though it's been heavily modified since taking ownership.

In round one paired agains a strong supercharged Camaro TJ Kasper literally killed the tree with a .000 light as John Cheman would have to make up ground .078; Kasper took his win 4.393 @ 183.07 over Chemen's very close 4.367 @ 171.97. Mo Hall gave up most of his chance on the tree against Tom Kasper; Halls .113 was late to Kaspers .086. Kasper 4.389 @ 185.38 takes round one from the nitrous powered Camaro 4.440 @ 166.37.

Round Two paired the class sponsor Kenny Doak who knew he would have a battle on his hands against Tommy Kasper's turbo Mustang. Both left almost identically with Kasper later .039 to Doak's .033, Doak is trucking and Kasper is out of shape before the 300ft mark. Kasper 5.002 @ 133.05 loses to Doak who had issues on the top end with his crankshaft breaking on this pass 4.688 @ 130.80. TJ Kasper would need to have all his cards in order for his pairing with Chuck Ulsch. From the hit, Kasper was out big time on Ulsch .018 to .083 respectively. Kasper gets out of shape and knows when to fold as Ulsch's Supercharged Camaro is well ahead. Kasper takes a loss 6.616 @ 73.05 as Ulsch moves into the semis 4.262 @ 184.42.

Read The Full Shakedown At E Town Review Here
Check Out All The Hi Res Drag Racing Photos From Raceway Parks Shakedown At E Town 2011 by goDragRacing.org Here


Shakedown At E Town 2011 Drag Racing Photo Gallery, Images Open In A Larger Slideshow

Kaspers Korner Drag Racing Outlaw 10.5 Mustangs At Yellow Bullet Nationals 2011
By: Kasper Racing Press

The second annual 2011 Yellow Bullet Nationals was home to the highly contested Outlaw 10.5 racing that Kaspers Korner / Gil Christy Motorsports participates in. This three day race brings in some of the heaviest hitters to grace Cecil County Dragways asphalt. After four qualifying sessions both Tommy Kasper and TJ Kasper landed their spots in the final order 8 and 12 respectively. Tommy Kasper 4.306 @ 185.00 being quicker in the 1/8th mile than the younger TJ Kasper 4.373 @ 182.87.

First Round eliminations took their toll on TJ Kasper who takes a shot at the tree and red lights -.001 his chances away going 4.529 @ 175.460 against his opponent Mike Keeler .060 4.575 @ 164.410. Tom Kasper gets a BYE run into the next round and eases in a soft .096 5.372 141.770 for his next round appearance.

Round Two saw the pairing of Scott Filkins with Tommy Kasper. Kasper .079 4.638 @ 171 as Filkins .076 4.684 @ 140 would struggle to keep up with the twin turbo power of the Kaspers Korner Mustang.

Tom Kasper .042 4.930 @ 165.84 would end his day with a hurt engine, producing this much power in these classes usually end in something broken as Kasper has been on top of things all year it was not meant to be this day as he fell to Richard Sexton .056 4.255 @ 181.20 in the Supercharged GTO who eventually won this session of Outlaw 10.5 racing at The Yellow Bullet Nationals.


Yellow Bullet Nationals Drag Racing Photo Gallery, Images Open In A Larger Slideshow

TJ Kasper In Top Alcohol Funny Car
By: Kasper Racing Press

After his big win at Cecil County Ultimate Outlaws, TJ Kasper trekked down to Gainesville Florida with Frank Hawley's Driving School for a run at his Top Alcohol Drag Racing License.

This young man has now been in all forms of race cars from Jr Dragsters and now to the second fastest and quickest full bodied machine on earth with the next step to the ultimate in a drag racers life a Top Fuel Funny Car.

The Alcohol version of a funny car is a stepping stone that is a serious requirement for a driver to move to the ultimate in racing but first you have to meet the required license and safety to gain experience. These machines are as capable as any of being outright "vicious" with power containing a supercharged Alcohol version of the Hemi Engines in a Top Fuel Car.

Videos show TJ Kasper handling the machine with ease as he now has the first step to get into anything from Outlaw 10.5, Pro Modified and Top Alcohol, Just when you think that TJ can do no more he comes out swinging for the fences taking no prisoners and looking for the best possible hit he can make to further his career in this tough class of racing we all know and admire for the capabilities of the drivers and the teams. A similar scenario was once played out in NHRA history throughout the pages of magazines, on national television and all forms of press with the "John Force Family". Now all of the same steps are taking place in the life of an established driver, champion, points champion and more, this is the way it happens in real life at the Kasper home.

Now we'll see if Top Fuel will be in order for this already competent driver of such a young age.


TJ Kasper Takes Outlaw 10.5 Win At Ultimate Outlaws Cecil County 7-10-2011
By: Kasper Racing Press
Photos By: Seth Cohen GoneDragRacing.com and goDragRacing.org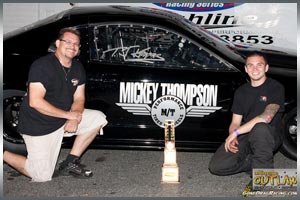 Young TJ Kasper had a hot weekend going at the Ultimate outlaws Series at Cecil County Dragway in the Outlaw 10.5 session sponsored by Coast Chassis of Daytona Beach. Kasper 4.477 @ 186 with his Father "Tommy" 4.425 @ 178 both qualified with dad in the ladder higher at number five and TJ at number eight with top speed of the qualifying in a 16 car field with twenty six entries.

Heat in the track didn't affect the performance of TJ Kasper as many struggled to get a grip on the hot asphalt yet the Mustangs out of Christy / Kasper Racing plain old "Hooked and Booked" down the sweltering 1/8th mile. Tom Kasper finished his day early with an engine problem and promptly began assisting TJ to make a run for the final when rounds began.

Lou Sciortino was TJ Kaspers first victim. Kasper left with a stout .057 light, Lou Sciortino was close behind in his gorgeous 69 Camaro with a .078 on the tree. Sciortino tried to keep up with Kasper but fell short 4.480 @ 162 to Kaspers ultra strong 4.396 @ 186 for the win and top MPH of the event.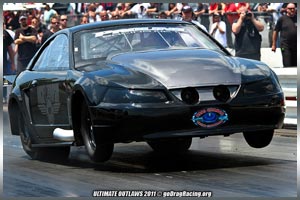 Billy Gordon out of Virginia who also was number one qualifier simply had issues that began with a .127 light and an early shutoff 7.421 @ 69 losing to TJ's .033 light and a slowing "easy pass" of 4.448 @ 177 to head to the semi finals.

Just what you would expect for an Ultimate Outlaws Series Race; four of the top racers and teams are in the semis. On the opposite side of the ladder Points leader Jason Enos was putting away the well known Supercharged GTO of Gil Mobley with Richard Sexton handling the driving. Enos laid down a blistering 4.289 @ 184 taking the win away from Sexton and TJ Kasper would be in the lanes right behind them surely noting that solid performance from the Steve Petty "Proline Racing Engines" Tuned Mustang. Kasper focused on his opponent Michael Martin with his Orange and white striped Camaro fueled by nitrous injection. Martin stabbed the tree .022 to Kaspers unusually slower .059 but Martin in the opposing lane put the Camaro into a screaming 300 ft wheelie and the cooled off track just made it grip and took it past the safe zone while Kasper ran straight and true to the finish line and Win with a "good" 4.390 @ 184 to Martins "out of the throttle" 5.226 @ 101.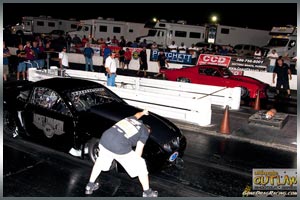 Now on a very cool surface from which temps had changed tremendously in the late evening. Jim Halsey stated earlier "I have no worries of this track just getting better and better for racing with this much power" as Halsey the ADRL Pro Mod Racer and Track owner would prove with a blast of his own for the fans prior to this round.

Kasper would now find himself facing Jason Enos, number one in points, lower ET's all day and a big following from fans of his rooting. TJ also has his own large fan base which was equally excited to see the outcome. Both heated the 10.5W slicks to their rubbery best taking care lining up the cars, it was all or nothing since Enos carried a full tenth of a second on Kasper all day.

As the tree fell TJ Kasper was out with a HUGE lead .048 to Enos' very late .124, Kasper must have kept a hidden tune up in this Mustang as his final ET would be the quickest of the day with a brilliant 4.30 @ 179 to Enos' quicker 4.28 @ 184. Enos would lose by a holeshot and TJ Kasper relied on his honed skills as a driver to put the Christy / Kasper Racing Outlaw 10.5 Mustang into the winners circle with a HUGE celebration when the win light lit from his followers.

See The Full Race Review And Photo Gallery On GoneDragRacing.com Here
Complete goDragRacing.org Photo Gallery Of The Ultimate Outlaws Series Cecil County Here

Kasper Racing: Cecil County Ultimate Outlaws Photo Gallery Below, Images Open To A Larger Size In A Slide Show Version